Well, hot diggity.  That was a fantastic Turkey Week.
Thanksgiving Week is always great, don't get me wrong.  I have a lot to be thankful for, and having a week off from work is not least on the list. This week, however, was one of the best that I can remember, and part of that is the amount of progress I made on my fishroom plans.
One thing I'm quite proud of is my sliding glass lids project.  I've completed and installed two lids — one on my loach tank and another on my platy tank — and I've cut glass for one and a half other lids, so I'm making serious progress there.  I couldn't be happier with the effectiveness of these lids at trapping moisture — the undersides of the lids are constantly covered in condensation, and I know that all of that water would be humidifying up the room if it weren't for the lids.  You can watch my tutorial on making these lids on my YouTube channel.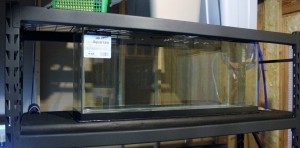 Speaking of the fishroom, I also got my 55-gallon tank moved onto its shelf.  It's hard to believe, but I've owned this tank for about 11 months and still haven't set it up yet.  At least now, it's in position and ready to be filled.  My original plan was to make a DIY 3D background for it, but my wife pointed out that since the tank sits at eye level and takes up nearly the entire shelf, it would be much more interesting to be able to view the tank from both sides… so I'm not doing a background on the tank at all.  I'm really excited with this idea and can't wait to get everything running.
There's another tank I'm very excited about.  You've seen the Fluval Chi, right?  If you haven't, you should take a look at some of the beautiful setups people have done with this "designer" tank.  I always loved the design of it, but I never really thought I'd own one — at $60 to $80 for 5 gallons, it just doesn't fit in my budget.  This week, however, I really scored at a local Goodwill:  I found a Fluval Chi (minus the filter/light unit) for less than $5.  I don't even mind the fact that the filter and light are missing, since many reviewers online say it's not super-reliable anyway.
With so many upcoming expenses — filters, heaters, lights, and of course, fish — I'm very happy to say that part of it will be paid for with photo contest winnings. I entered the monthly Fish of the Month contest on FishLore with a four-eyed butterfly fish I photographed at Ripley's Aquarium in Gatlinburg, TN. If anyone who voted for my photo happens to read this, thanks! The prize is a $10 gift certificate at Doctors Foster and Smith, a site I've ordered from a few times and really appreciate doing business with.
So anyway, it's back to work for me, but I've got a lot to be happy about and a lot to look forward to in the near future. I'll be sure to keep you updated!