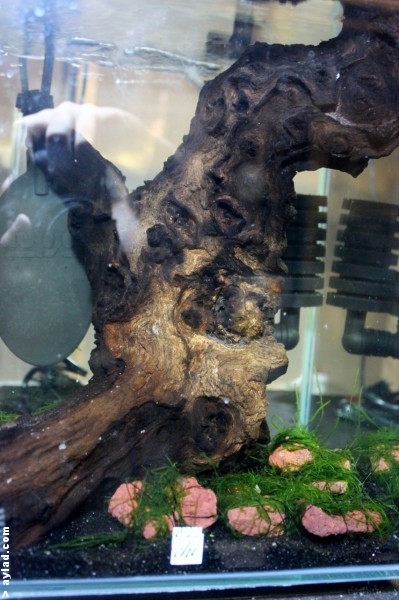 There's a lot of exciting news in the fishroom this week!  I'm wheeling and dealing, planting, filtering, heating, you name it — all in preparation for more fish and critters.
First up, my Fluval Chi shrimp tank is one step closer to being ready to launch!  After planning (and procrastinating) this project for a while, I made time to add java moss mounted on lava rocks.
The lava rocks are the ones sold in the Walmart garden section — or "outdoor living" as they're apparently calling it now.  Prep was as simple as picking out some of the larger rocks and rinsing off the dust under the tap.  I wrapped the rocks with java moss harvested from my former loach tank and tied it on with black cotton thread.  As the moss grows, it will attach itself to the porous surface of the lava.  It will most likely also spread to the driftwood in the tank.
The benefit of this is that the RCS that I'm (eventually) getting for the tank will graze microorganisms from the moss, and the molting and juvenile shrimp will use it for cover.  Having the java moss established is a huge step toward having this tank ready for shrimp inhabitants, which is something I've been looking forward to for months.
Second, my 55-gallon tank is finally cycled and ready for stocking!    I'm starting with a few mystery snails — already ordered — but sometime within the next two or three weeks, I'm expecting a deal to go through that will bring some exciting new fish into the tank for FREE. I'll post more details about that when the time comes.
I'm continuing to trim and replant the anacharis in the tank, the MTS are definitely multiplying, and the Nymphaea bulb is growing out its leaves, so things are going well in the tank.
Finally, I swung by PetSmart this week and picked up a small heater and a new airpump to power the trio of sponge filters Amazon delivered this week.  I'm now ready and able to run two, count 'em, TWO quarantine tanks, and I can get the new sponge filters cycled for future tanks.  Good times are a-comin' in Aylad's fishroom, yep yep!  Stay tuned to watch the action…